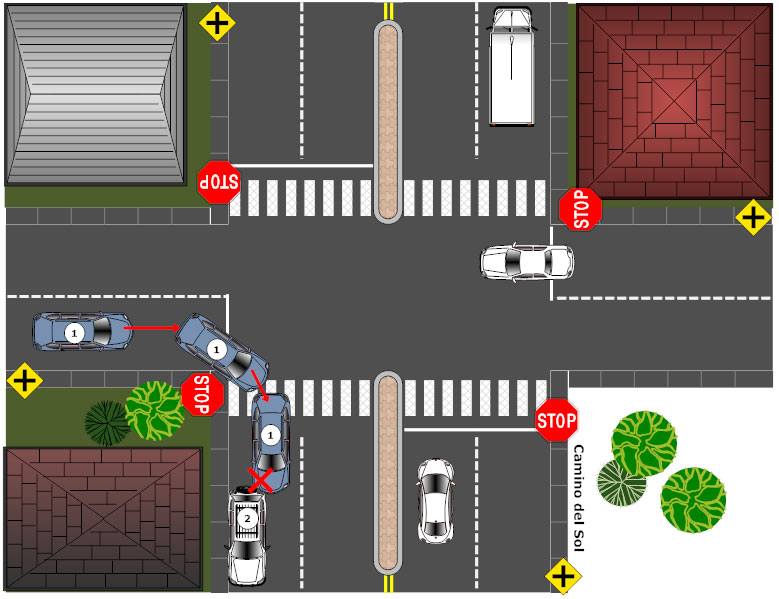 The Accident Sketch is an essential element in the discovery of fault in a claim for traffic accident compensation.
If the Accident Reconstruction Sketch is not accurate, this can have detrimental consequences for the outcome of the claim. For example, the percentage fault is different if a pedestrian is hit while he is walking on a pedestrian crossing or if he walks beyond the crossing.
Is there a possibility of challenging and overturning a Traffic Police sketch?
Frequently Traffic Policemen arrive at the scene of the accident after a long time and perhaps after the injured and the vehicles have already moved aside or away from the accident scene.
In such a case, Experts will be required to support the truth with technical knowledge and solid evidence which will restore the truth of such a strong evidence as the Traffic Police Autopsy Report and Accident Sketch.
Monitoring relevant court rulings is always important. The following two cases are indicative:
Ruling A
Amputation of lower leg, 150.000€ for Non-material harm
The autopsy report and the sketch provided by Traffic Police did not clearly correspond to reality, since they were drawn up by a policeman who went to the accident site one hour after the accident when the vehicles had already been moved. Athens Single Member Court of First Instance Apr. 4170/1991

Ruling B
Reversal of conclusions of Autopsy Report and Accident Sketch of Police based on provided material governed by the rules of physics-dynamics. Thessaloniki Second Instance Court 162/1989

Overturning an autopsy report with witnesses and photographs regarding who the driver was. It was considered that in the autopsy report, based on findings and depositions, the whole truth was not imprinted, which the author of the report should have seen. In particular, the above-mentioned investigative officer did not take into account the eyewitness oral clarifications, and other elements (including photographs), thus presenting the deceased co-driver as the driver. It was proved, however, that the driver had already been taken away, wounded, by the paramedics, while the firemen freed the already dead passenger who had been trapped in the badly damaged vehicle.