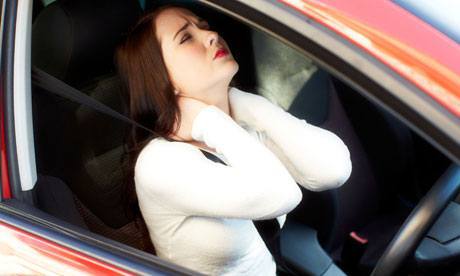 This neck injury is also known as acceleration - deceleration injury or injury of sudden hyperextension.
This term is used when the neck is injured from a sudden movement due to acceleration - deceleration, a sudden shake or a move similar to that of a whip. This injury usually occurs in car accidents following a sudden hyperextension of the neck of the passenger of a stopped vehicle on which another car drives in at the back.
This type of crash can cause damage in several structures of the cervical spine. During the sudden acceleration of the neck, compressing or distending loads affect joints, muscles and nerves in the area. These loads can injure tissues if the forces are beyond the limits of their endurance.
Causes of neck injury
Usually these injuries take place at traffic accidents such as head-on car collision or while stopped a car crashes from behind. These injuries are also found in sports like soccer and basketball where two players' strong clash can cause a sudden acceleration - deceleration of the neck. However, the damage can be created in many other ways, including bungee jumping and falling generally.
It is one of the principal injuries covered by the insurance companies. In 2007 in Britain, 430,000 people had an insurance claim due to an injury in the neck. These statistics explain why all car manufacturing companies have developed systems to address these types of injuries.
Symptoms of injury - neck fracture.
Patients feel sudden pain in the neck at the time of injury. In some occasions there is little or no pain at the time of injury. In this case, pain increases over the next two or three days as it is noticeable at night and the first minutes of the day.Pain related to the injury (whip-like) may be "sharp" or "dull" and increases with movement or the wrong posture (eg wrong neck position in front of the computer). The pain is usually located in the neck and may radiate to the arms, the shoulder or the head (it causes headache known as cervical headache). Also there is stiffness and restricted movement of the neck. Patients fell their head "heavy" and difficult to lift from the pillow. In rare cases there is a feeling like stabs and stitches and a numbing at one or both hands.
Diagnosis of whiplash injury.
Subjective (medical history) and objective (clinical examination) evaluation by orthopedic surgeon is sufficient to lead to the diagnosis of the injury. Further diagnostic evaluation with imaging studies (x-rays, magnetic imaging) determines the exact extent of the damage.
Generally reinforced cervical collars (eg. Philadelphia) are used for 6 to 12 weeks. In all cases of neck fractures, long recovery of 3 months or more are generally required. However, collars are nor recommended to be used for longer periods because they can weaken the neck muscles.
Documentation of the fracture and amount of compensation.
Depending on the speed of the impact and a series of factors, our specialists have the duty to scientifically define and prove the extend of damage. The strain can be caused in accidents with 20 km per hour but usually the effects are much more serious when the speed increases. US studies show that the symptoms can persist for a long time. After 12 months, 20% of patients are symptomatic and 11.5% of people are able to return to work one year after injury. This demonstrates the demanding task of proof as future implications and the amount of damage will determine the extent of the necessary care and consequently the amount of compensation to be reimbursed. Especially for an injury that may not be evident at the time of the accident!
Factors such as the amount of income loss and age will also play an important role, as in all cases of accident claims. What should be done in cases of neck fracture. The immediate visit to your doctor is required. He/she will give you an initial sense of the damage and will take care of addressing it. Then you should contact us, soon enough to enable an expert to see you and recommend steps for comprehensive support of your case. We will contact your doctor to see in depth what has happened and how he/she should record the damage and assess the implications for the proper documentation of your potential claims.
A recent landmark decision of the Supreme Court of Cyprus confirmed damages of € 89.759,40 for neck injury, signifying the serious impact on the victim's health and the potential for claims in this matter.
Due to our experience, apart from our permanent legal associates in Athens, lawyers from across the country and Cyprus cooperate with us in trafic accidents.
Why entrust All Accidents with your case:
Our philosophy is to offer more and therefore you can claim more.
Our expert partners have extensive experience in accident cases, having participated in hundreds of claims and recoveries in Athens and as well as in other cities in Greece. More about our philosophy and our experts are found at our page " ".
An additional asset of our medical partners is the fact that they have checked in practice and identified those external experts who apart from specialized support in a court, are able to advise or undertake the restoration of the damage. Part of the cooperation with us is the continuous advisory/monitoring of the medical evolution of the person hurt, in direct contact with the relevant physicians.
Do not agree to anything before talking to us.
Insurance companies, in their effort to minimize the compensation you deserve may try various ways of approaching you through "very friendly" intermediaries like lawyers, claim managers or social workers.
Your interests are, however, in complete contrast with theirs. Do not agree to anything unless you receive an advice from us. Our specialist will examine and propose without any commitment from your side how to support you best to maximize your satisfaction. Even if you agree formally on something and your medical condition worsens, there may be ways to re-negotiate but it will be more difficult.
In case that, due to the accident you cannot move, a partner of All Accidents can meet you on the location you will indicate, at home or at a medical or rehabilitation facility.
Whatever the cause of the accident may be, resulting in injury or even in death, you can call today at +30 210 7212175 or at +30 6983 077459 for a professional advice. We operate on the principle of No Win, No Pay, so you do not undertake any commitment!