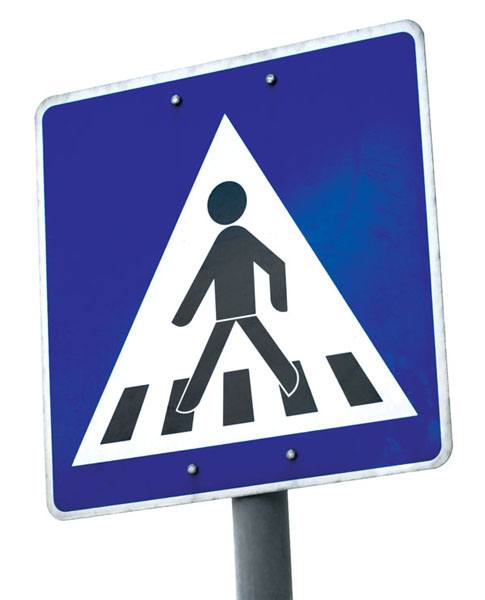 The July 2014 issue of Plaintiff Magazine discussed the usual evidence and injury issues related to pedestrian-car accidents. The article brings to light the litigation stages at which an expert can come in handy.In a pedestrian-car accident case, there are normally three stages to pay attention to when evaluating a plaintiff's injuries: (1) initial impact, (2) trajectory (when pedestrian separates from a vehicle), and (3) ground contact, such as sliding or rolling to the ground.
Pedestrian personal injury cases generally involve four issues: (1) initial impact location (crosswalk, sidewalk, bike lane), (2) speed of the car at impact, (3) speed and orientation of the pedestrian, and (4) whether the incident could have been avoided. A human factor expert may be used to evaluate the parties' perspectives.To resolve common litigation issues, gather physical evidence at the scene of the accident as soon as possible after an accident, including blood stains, shoe marks, and car debris. Be aware that car and scene evidence are fleeting because cars get repaired, and roadways get altered by weather.
An expert can assist to reconstruct the speeds and impact of cars.From pedestrian impact studies, the majority of pedestrians-car collisions in the United States involve pedestrians getting hit on the side while walking or running across a roadway. Head injuries, involving scalp lacerations, concussions, and hemorrhages, are a leading cause of death for pedestrians. Leg injuries, including contusions, torn knee ligaments, and long bone fractures, are the most frequent disabling injuries.
A medical expert can evaluate a plaintiff's physical injuries, and help relate physical evidence to the type and pattern of injury for establishing how the injury happened from medical records, and photographs of the pedestrian's injuries.Experts may be invaluable when delineating one injury source from another. While pedestrians have life threatening injuries when cars slam into them, minor external wounds such as lacerations and abrasions are often overlooked by medical personnel.
For instance, when assessing lower extremity injuries, an expert can help examine the fracture pattern detailed in radiographic reports or films to find out what direction the leg was impacted. The direction of impact usually corresponds to the pedestrian's orientation or direction of travel at the time of impact.